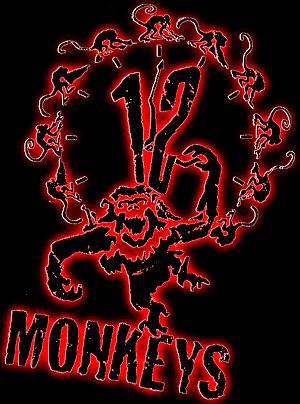 Interesting movie to say the least. It was different from anything I've seen before. At the end of the movie I was still really confused, but luckily I had Dave there who explained everything and then it all started to make sense. Now that I have knowledge of things that I hadn't picked up during the movie I think i'll watch it again just to put the pieces together.
Would I recommend this movie? Probably. Brad Pitt is one hell of an actor in this one. I was super impressed with his role and how great he pulled it off! And of course, Bruce Willis was golden as usual. But... it
was
a weird film.
Four down...86 to go....
The List
12 Monkeys
A League Of Their Own
Airplane!
Akira
Aliens
American History X
Animal House
Best in Show
Better Off Dead
Big Trouble in Little China
Bill & Teds Excellent Adventure
Blade Runner
Blazing Saddles
Boondock Saints
Bull Durham
Butch Cassidy and the Sundance Kid
Caddyshack
Clerks
Close Encounters of the Third Kind
Daze and Confused
Deliverance
Evil Dead II
Fast Times at Ridgemont High
Ferris Bueller's Day Off
Field of Dreams*
Fight Club
Fletch
Ghostbusters
Glory
Gremlins
Heathers
Highlander
Jaws
Lethal Weapon I
Life as a House
Monty Python and the Holy Grail
My Blue Heaven
Naked Gun
National Lampoon's Vacation
Office Space
Pale Rider
Planes, Trains, and Automobiles
Platoon
Policy Acadamy
Porkys
Predator
Primer
Pulp Fiction
Raiders of the Lost Ark
Rainman
Rambo: First Blood
Raw Deal
Red Dawn
Reservoir Dogs
Robo Cop
Run Lola Run
Say Anything
Scarface
Sixteen Candles
Spaceballs
Stand By Me
Star Wars: A New Hope
Star Wars: Return of the Jedi
Star Wars: The Empire Strikes Back
Terminator 2: Judgment Day
Terminator 3: Rise of the Machines
Terminator: Salvation
The 6th Day
The Big Lebowski
The Breakfast Club
The Godfather
The Golden Child
The Good the Bad and the Ugly
The Goonies
The Jerk
The Karate Kid
The Natural
The Professional
The Shining
The Three Amigos
The Usual Suspects
The Warriors
Top Gun
True Lies
True romance
Unforgiven
Untouchables
Young Frankenstein